A new footprint for Yale College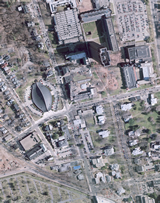 The new residential colleges will occupy the area just south of Ingalls Rink. This location will accommodate two new communities of freshmen and upperclassmen, with all the features of Yale's existing colleges: separate dining halls and common rooms, courtyards, masters' houses, and student suites built on an entryway system. Each of the new colleges will be approximately 220,000 square feet.
Significantly, the facilities will create a new sense of Yale's geography by enlarging the footprint of Yale College and shortening the perceived distance between Science Hill (A) and the historic center of campus (B). To this end, plans are under way to create a new Undergraduate Science Teaching Center adjacent to Klein Biology Tower (C).
 The building site
Stepping Stones
In addition to the Undergraduate Science Teaching Center, Yale aims to create "stepping stones" to the new colleges and add amenities that bring students and faculty to the neighborhood. The Rose Center (D) and the new home for the Yale University Health Services (E) will transform Lock Street into a natural pedestrian passage from Morse, Ezra Stiles, and Payne Whitney Gym (F) to Science Hill and the site of the new colleges. Rosenkranz Hall (G), the social science building  behind Luce Hall, has provided a new anchor for Prospect Street, while the new Center for Engineering Innovation and Design and a student café on the ground floor of the Becton Center will further enhance the Prospect Street corridor leading to Science Hill.
Yale is also strengthening shuttle bus service, enhancing security, and improving the sidewalks and intersections along Prospect Street.