Over the last decade, Nicholas F. Brady '52 has partnered with his friend Charles B. Johnson '54 to advance a range of initiatives at Yale. Together, they made gifts to support the Brady-Johnson Program in Grand Strategy in 2006 and establish the Johnson Center for the Study of American Diplomacy and the Kissinger Archives at Yale University in 2011. So when Johnson asked alumni, parents, and friends to follow his landmark $250 million commitment to build two new residential colleges for undergraduates, Brady immediately stepped forward with his own generous contribution.
"It is typical of Charlie to make his mind up about something vitally important and do something about it," Brady said. "Yale last built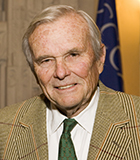 new residential colleges in 1961, and with so many outstanding students seeking admission to Yale College, it is time to expand."
Burgeoning support
Johnson's historic gift brought the university to within $80 million of breaking ground on the new colleges, and a number of enthusiastic donors have joined the effort to help close this gap. Already, giving has spanned about half the distance.
Designed by School of Architecture dean Robert A.M. Stern '65 M.Arch., the new residential colleges will occupy a triangle of land just south of Ingalls Rink. The colleges' gothic architecture will echo the character of Yale's central campus, and many defining spaces will bear the names of recent benefactors.
The support of Justin '89 and Amanda Chang will name an entryway. Other donors making generous gifts for the new colleges include Richard '85 and Emilie Powers P '17, and David '95 and Becky '00 MBA Schamis.
"I am deeply grateful to alumni, parents, and friends who are contributing to the new residential colleges," said President Peter Salovey '86 Ph.D. "Their gifts bring new momentum to this effort, and I am confident we will soon reach the full funding we need to start construction."
A home away from home
During his inaugural speech last October, Salovey highlighted the importance of the residential colleges. "The tradition of students living in small communities distinguishes and animates the Yale College experience," he said. "This arrangement allows our students to bring their educational lives into their homes: into the dining halls, common rooms, kitchens, libraries, theaters, and galleries within each of our twelve colleges, where teaching and learning also flourish."
But Salovey noted that in order for Yale College to stay true to its mission to remain accessible for deserving students, added living and learning spaces will be key: "Our college is among the smallest of our peer schools, and I believe we must expand access to undergraduate education by building two new residential colleges."
Adding more space for qualified students was a leading factor in the Yale Corporation's decision to build the new colleges. Yale College now admits less than 10 percent of applicants; as recently as 1999, that rate stood at over 20 percent. And this year, the 1,359 students in the Class of 2017 came from an applicant pool of 29,610—the largest in Yale's history.